Mixed Delivery Mode Course
DIPLOMA OF SCREEN AND MEDIA SPECIALIST MAKEUP SERVICES: BLENDED
CUA51020: DIPLOMA OF SCREEN AND MEDIA SPECIALIST MAKEUP SERVICES
Flexible mixed mode learning with blended face-to-face and online classes
YOUR JOURNEY STARTS HERE!
The Huxley School of Makeup offers two Diploma streams of study; either our traditional On Campus Diploma of Screen and Media – Specialist Makeup Services or our blended earning option with both online and block learning classes.
The Blended Diploma allows students to undertake a HUXLEY course even if they live abroad or are unable to attend full-time or part-time studies on campus. Units offered in the blended program are designed to enable students to attain a Nationally recognised accreditation as a professional makeup artist. This new mode of study is flexible and affordable!
Students are challenged throughout the program to develop a deep understanding of makeup through our online portal and intensive block training held at various locations around the country. Training blocks are held at different times throughout the year and correspond with particular subjects and benchmarks. Students are then required to practice these techniques between block training workshops.
Even abroad students can still gain access to the exclusive network of work experience opportunities. As an added bonus, students will also have the opportunity to have their work professionally photographed by an experienced photographer. Students have 24/7 access to our online portal and can discuss their progress weekly with scheduled correspondence with our experienced trainers. Submitting your work for review and appraisal couldn't be easier as students have the ability to upload and download both videos and photos from our portal.
The Blended Diploma Course allows students to gain professional makeup artistry skills for work within the bridal, film, fashion, cosmetics, and photographic industries.
Advanced special effects subjects, such as life-casting are not offered in the Blended Diploma. However, students who wish to advance their skills may wish to undertake further studies on campuses such as our Visual Arts Diploma or specialty workshops. The Blended Diploma provides the perfect base to build a career as a professional makeup artist or as a pathway into advanced and specialty courses.
Graduating from HUXLEY is a prestigious achievement recognised by industry professionals and employers for producing future makeup leaders. Successfully graduated students will gain both their Diploma Certificate and their official educational transcript of completed units of competency.
OUR MOST FLEXIBLE DIPLOMA!
Chose your blocks location: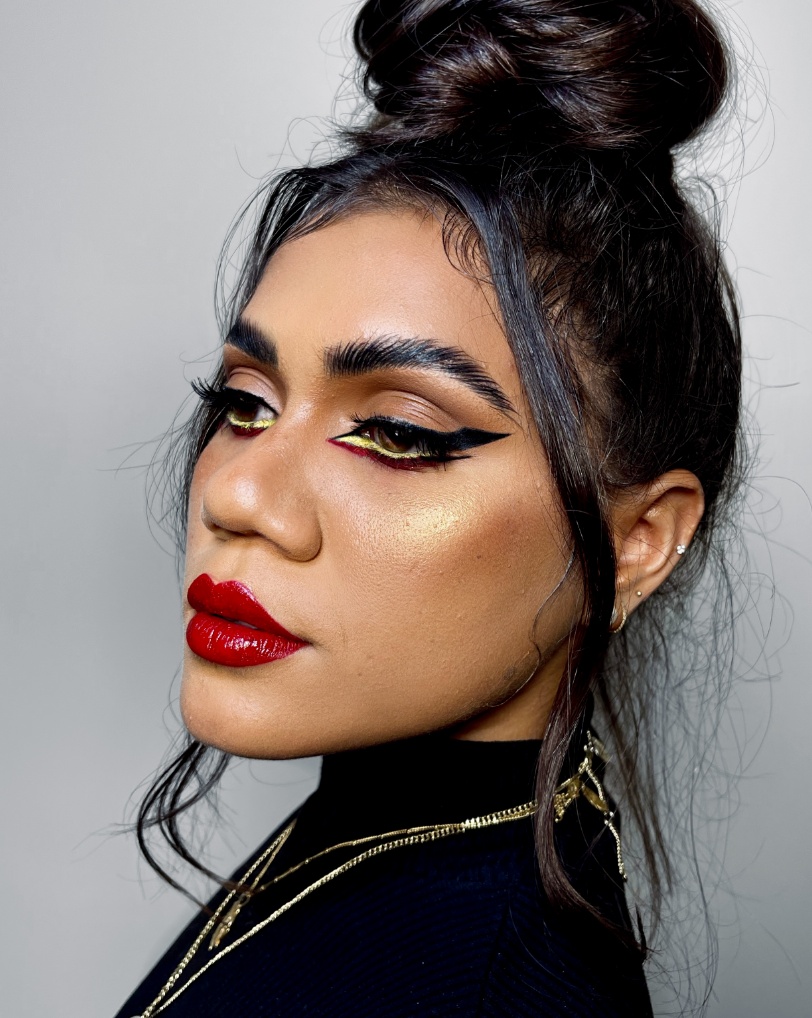 ASH MAJOR HUXLEY BLENDED DIPLOMA GRADUATE BASED IN TOWNSVILLE, CURRENTLY WORKS AS A PRO MUA IN THE FIELD OF DIGITAL CONTENT CREATION & AS A SALON ARTIST.
DEVELOP a career in one of the worlds largest industries
VALUED AT $1.9BILLION, THE AUSTRALIAN FILM INDUSTRY IS ONE OF THE LARGEST AND FASTEST GROWING IN THE WORLD
THE GLOBAL COSMETICS INDUSTRY IS WORTH OVER $380 BILLION USD ANNUALLY AND IS CONTINUING TO GROW!
TURN YOUR SKILLS INTO A CAREER!
Regardless of your career aspirations and industry interests, HUXLEY has the courses to help students reach their full potential and bridge the gap between education and employment opportunities.
A piece of paper doesn't equal a job. At HUXLEY we understand what employers, clients, and organisations require from their artists.
The best way to learn and reach your goals is to total immerse yourself in your chosen discipline. At HUXLEY students have access to experienced, passionate industry leaders who have actually done it all before. They gain real-world experience on exciting in-class collaborations and shoots while developing a deep understanding of relevant industry knowledge and practices.
The scope of employment for professionals within the makeup industry is extremely broad. Common fields such as film, cosmetics, and bridal industries are well known. However, the breadth of employment opportunities extends to e-commerce, fashion, commercial, and even non-traditionally creative industries such as marketing, business development, and product development to name a few. Even within certain fields, individuals throughout their career specialise in areas that interest them. For example, in film there are specialisations ranging from on set applications to manufacturing props and effects to concept design and project management.
BEAUTY FUNDAMENTALS
Complexion 101
Contouring
Brows
Lips
Colour theory
Natural makeup
Editorial makeup
Mature makeup
Masculine makeup and grooming
Camouflage makeup
Makeup for dark complexion
SPFX FUNDAMENTALS
Colour theory
Bruises and blood
Burns and scars
Intro to sculpting
Encapsulated flat plate moulds
Bloodline fundamentals
Bald caps
BEAUTY INTERMEDIATE
Defining eyes
Smokey eyes
Wings
Cut Crease
Bridal makeup
INTERMEDIATE FILM & TV MAKEUP
Prosthetic application
Prosthetic colouring
Aging
Kit FX 
On-set etiquette
Tattoos for film
Continuity for film
On set touch-ups
BUSINESS FUNDAMENTALS
Social media
Content creation
Promote products and services
Customer service
Preparing quotes and invoicing
HAIR FOR MUAS
On-set tools and products
Facial hairpieces and application
Hairpieces
Wig styling and maintenance
Wig application
Basic hair styling for performance
ADVANCED MAKEUP DESIGN
DRAG Makeup
Asian cultures design
Period Makeup
Fashion and commercial concepts
Avant-Garde design
Body art
HEALTH & SAFETY
General OH&S
COVID-Safe practices
Kit knowledge, setup, maintainance, and cleanliness
Onset safe practices
Risk assessment practice
AT A GLANCE:
5 x 5 day Face-to-Face blocks
Flexible mixed-mode learning
VSL Approved program 
A LITTLE MORE: 
This program is run over 40 weeks with a mixture of face-to-face classes, projects, and online learning.  This program is our most flexible combining 5 face-to face blocks with online learning.  There are 2 locations for the blocks; Gold Coast and Far North Queensland in Townsville.  You can live anywhere in Australia and attend the face-to-face blocks in either of these locations.
Often people living in regional towns miss out on high-quality educational opportunities.  Our Blended, Diploma Of Screen and Media Specialist Makeup Services, is the highest qualification in professional makeup artistry currently offered as a mixed-mode delivery.  Students gain all the knowledge and experience required to work as a professional MUA while having the flexibility to juggle their schooling around their lives.
This modern education method is becoming increasingly more popular as it allows the student flexibility without compromising practical experience.  Throughout the course, students work on key makeup disciplines and develop a deep understanding of industry practices.  They network with industry professionals and throughout the course gain personal mentorship.
The final block week is made up of 6 exciting portfolio photoshoots.  The students work on various concepts throughout the course and execute these looks with a professional photographer.  HUXLEY students are exposed to all makeup artistry fields, including special effects, theatre, fashion, bridal, commercial production, and many more.  If you're looking for a flexible course that covers everything from core skills to advanced techniques, then the Blended Diploma Of Screen and Media Specialist Makeup Services, (that's a mouth full right…) is the course for you!        
HIGHLIGHTs, more HIGHLIGHTS!
Oh daymn, you mean it gets even better?
HUXLEY courses are designed by industry professionals, for industry professionals. Courses are thorough, meticulous and inspiring. These attributes help HUXLEY students become more employable!
To be clear, it's all about the experience at HUXLEY! The obvious benefit is portfolio development. The real hero is the experience of working under the pump while developing their visual acuity for modern aesthetics. Plus, they get the opportunity to develop a ton of content for their social media channels.
"Have you got experience working on photo shoots and campaigns?
HUXLEY Makeup Queen or King:
"YASS indeed! More than 14 times!"
"Unlike at other education providers where the highlight of the course is a hypothetical scenario requiring you to stick a foam rabbits nose on your model… At HUXLEY students collaborate with companies like Village Road Show, Brands like YSL and even produce their own incredible characters for short films. Oh the SHADE of it all!"
Here are just some of the blockbuster films HUXLEY has sent students to:
Elvis, Aquaman, Thor, Dora the Explorer (live action), Pirates of the Caribbean the list goes on! Students have also been placed on productions like Mamma Mia the musical, music videos, fashion shows, campaigns for major brands, and even worked with massive social media influencers. Every term there are different opportunities. However, one thing is for sure: HUXLEY has the connections!
Trends, products, and techniques are constantly changing. HUXLEY is always at the forefront of current education practices and industry standards. How do we know for certain? Our course topics are adapted for every single intake!
"Australia's BEST makeup school!"
Not just because every year we win national and international awards. Not just because Google ranks HUXLEY in the Top 10 makeup schools in the entire world. Certainly Not just because we are a government preferred provider…. HUXLEY is the BEST because our students come first and as the saying goes, the proof is in the pudding. As you can see from our incredible student work, there really isn't a better place to study makeup than HUXLEY!
All the photos on our website were created in class at HUXLEY!
Pretty incredible considering many of our students start with little to no experience.
OUR AMAZING STUDENTS IN TOWNSVILLE WORKED ON AN EXCITING AVANT-GARDE MAKEUP PROJECT THAT UNINTENTIONALLY BECAME POSTCARD MOMENTS FOR THE REGION, CASTLE HILL.
CUAPPR505
Establish and maintain safe creative practice
CUAIND502
Maintain and apply creative arts industry knowledge
CUAMUP401
Design, apply and remove make-up
CUAMUP503
Design and apply special make-up effects
BSBMKG413
Promote products and services
CUAMUP402
Maintain make-up and hair continuity
CUAMUP403
Style hair for performances or productions
CUAMUP502
Design and apply specialised make-up
CUAMUP504
Create prosthetics for special make-up effects
BSBCRT501
Originate and develop concepts
MSTFD5007
Analyse influences on contemporary fashion designs
BSBCRT402
Collaborate in a creative process
CUASFX401
Create special effects items
CUAPRP402
Use casting and moulding techniques to make props
CUAMUP404
Style wigs and hairpieces for performances or production
CUAPPR502
Develop own sustainable professional practice
CUAPPR503
Present a body of own creative work
CUAPPR501
Realise a body of creative work
CUARES503
Analyse cultural history and theory
BSBSMB401
Establish legal and risk management requirements of small business
CUAACD501
Refine drawing and other visual representation tools
BSBCMM401
Make a presentation
CUADIG508
Refine digital art techniques
LMTGN3003B
Estimate and cost job
BSBMKG501
Identify and evaluate marketing opportunities
BSBREL401
Establish networks
HUXLEY our goal is to create equal opportunity for all prospective students. Eligible students can apply for VET Student Loans and may be able to access Government subsidies off the full course fees. Therefore, in most cases, successfully enrolled students will not have an upfront cost to pay besides the student kit fee. For more information about VET Student Loans, payment plans, or anything to do with fees and services please don't hesitate to ask.
The total cost for this course is $18,500*. You will also need to purchase a kit with all the products and tools you need for the course, this is valued at $2000*. We understand that not everyone can pay this fee upfront, so we give our students the option to access flexible payment plans. A $600 deposit is required**, which will be taken off your your total kit cost. At this point you will also receive your successful enrolment letter. Please note full fees for students vary based on an individual's eligibility to concessions government subsides and qualifications.
Every effort has been made to ensure the information provided on this website is true and accurate at the time it was published. For more information regarding what your fees and your journey at HUXLEY will look like, contact one of our friendly team members!
*This price has been revised as of August 2022. The price for this course may be subject to change. 
**The first payment of $1200 will secure your position as a HUXLEY student and is non-refundable. 
Course: $18,500
Kit: $2000
Admin fee: $250
HUXLEY Shirt: $35 – $45
KIT PAYMENT PLANS FROM JUST
The entire team at HUXLEY genuinely cares about each and every student. Beyond our incredible trainers, HUXLEY employees additional support staff to help with day-to-day student life. As for HUXLEY trainers, they aren't just extremely skilled and experienced. They are your personal mentors to help maximise your educational outcomes!
No matter which pathway you choose, you'll learn from the best!
Meet some of our trainers and mentors.
Diploma of screen and media specialist makeup services: blended
Limited places available by application only! If you'd like to become a pro mua apply now for your chance to study at the BEST makeup school in Australia.