The best makeup school in Australia
Bridging the gap between education and industry
You've heard them say that HUXLEY is THE BEST place to study Makeup in Australia… This is why.
The Huxley School Of Makeup emerged within the education space late in 2011 and began offering comprehensive makeup artistry courses in February of 2012. The school quickly developed a cult following among makeup enthusiasts and a positive reputation backed by industry leaders. HUXLEY was the school for the makeup industry, offering courses that focused on industry-proven disciplines while providing students with real-world experiences.
To this day, the Huxley School Of Makeup remains the preferred school for industry professionals and continues to provide students with unparalleled experiences and opportunities.
Be Inspired, Be Informed, Be Yourself
Our motto embodies the schools commitment to creating an environment that focuses on students development.
The Huxley School of Makeup is a multi-award-winning, world-class education provider, shaping the hearts and minds of future creatives. With a global Top 10 Ranking, it's safe to say that, HUXLEY dominates the creative arts education space in Australia. HUXLEY offers nationally recognised and industry-endorsed courses in professional makeup artistry and a program in Professional Hair Styling. Our greatest success is seeing students continually reach the highest levels of success across multiple creative arts industries.
"Winning awards is great, but being the best isn't about titles and accolades.
It's about the success of our students and our capacity to help them reach their educational objectives."
HUXLEY founder: Michael Huxley
HUXLEY puts students first, with a strong focus on practical, relevant, industry-based training coupled with real-world experience. Throughout HUXLEY courses, students engage with industry professionals and have the opportunity to collaborate on highly acclaimed projects.
Experienced and qualified trainers put HUXLEY students' development first. HUXLEY educators are industry pros with remarkable insight, skill, and passion for training. Students are mentored, guided, and nurtured to realised their full potential.
Each year, every term, and with every intake of students, the team at HUXLEY are maintaining exceptionally high standards that professional creative industries demand, while keeping course materials and the delivery of courses, relevant, practical and fun. HUXLEY is an inclusive education provider with a positive school culture that allows students to develop as individuals and professionals.
It doesn't matter which way you look at it, we're all self-taught. There isn't a magic pill of knowledge and skill that enables you to become an industry pro. What HUXLEY provides, is the ideal conduit between education and industry. Practical courses taught by industry leaders, coupled with real world experiences, portfolio development, industry knowledge and networking. HUXLEY is the BEST place to study makeup because we provide students with the perfect environment to master skills and reach their educational goals.
"HUXLEY gave me a pathway into film that without them wouldn't have been possible"
Lucy Johnson, Agency Represented Film & TV Artist
The Australian film and TV industry has exploded, fuelled by the rise of online streaming and the region's capacity to produce world-class content. HUXLEY has an incredible work experience program that sources opportunities for students on set. HUXLEY students and graduates have worked on productions like Thor, Aqua Man, Elvis, and countless others!
The most comprehensive courses are just the beginning!
A school is only as good as the students it produces. HUXLEY has reached the highest level of educational excellence through consistent, exceptional results. This coupled with the positive school culture, experienced passionate trainers and real-world industry opportunities solidifies the Huxley School Of Makeup as a world leader in professional makeup artistry education.
Huxley School of Makeup is in partnership with TAFE Queensland (0275). Students can apply and enrol for specific courses where they may be eligible for funding. 
For more information on funding, visit the TAFE Queensland website.
Since the beginning, HUXLEY has been the makeup school for professional makeup artists. The scope of professional makeup artistry is broad, yet HUXLEY has developed programs that meet and exceed the requirements of all specialised fields. On set, HUXLEY students have a reputation of excellence and professional makeup artists recognise HUXLEY's courses above the rest because they are real world focused, comprehensive, designed by professional makeup artists and taught by extremely experienced trainers.
Huxley School Of Makeup faculty is comprised of industry people with specialised skills. Students connect with trainers who have held successful careers across many industry areas, so they too can begin to understand the pathways they wish to explore within the world of makeup. Every HUXLEY educator continues their associations and connections with the industries they specialise in to ensure that students are receiving the most up-to-date and relevant training. These connections allow HUXLEY students to not only gain valuable insight, but also provide opportunities for potential employment and career mentorship.
Internationally Acclaimed
For the past 5 years in a row, Huxley School Of Makeup has won National and International Awards for its contribution to arts, culture, and the makeup industry. Several HUXLEY students have also been the recipients of national and international professional makeup artistry and young achiever awards. Whilst the Huxley School Of Makeup is proud to have received awards, the most impressive valification is that students have gone on to succeed across the entire scope of professional makeup artistry.
In January of 2017 Huxley School of Makeup successfully completed rigorous compliance processes to become Internationally ISO accredited. This certification demonstrated the school's commitment to our students, the professionalism of company structures, and the growth of the brand.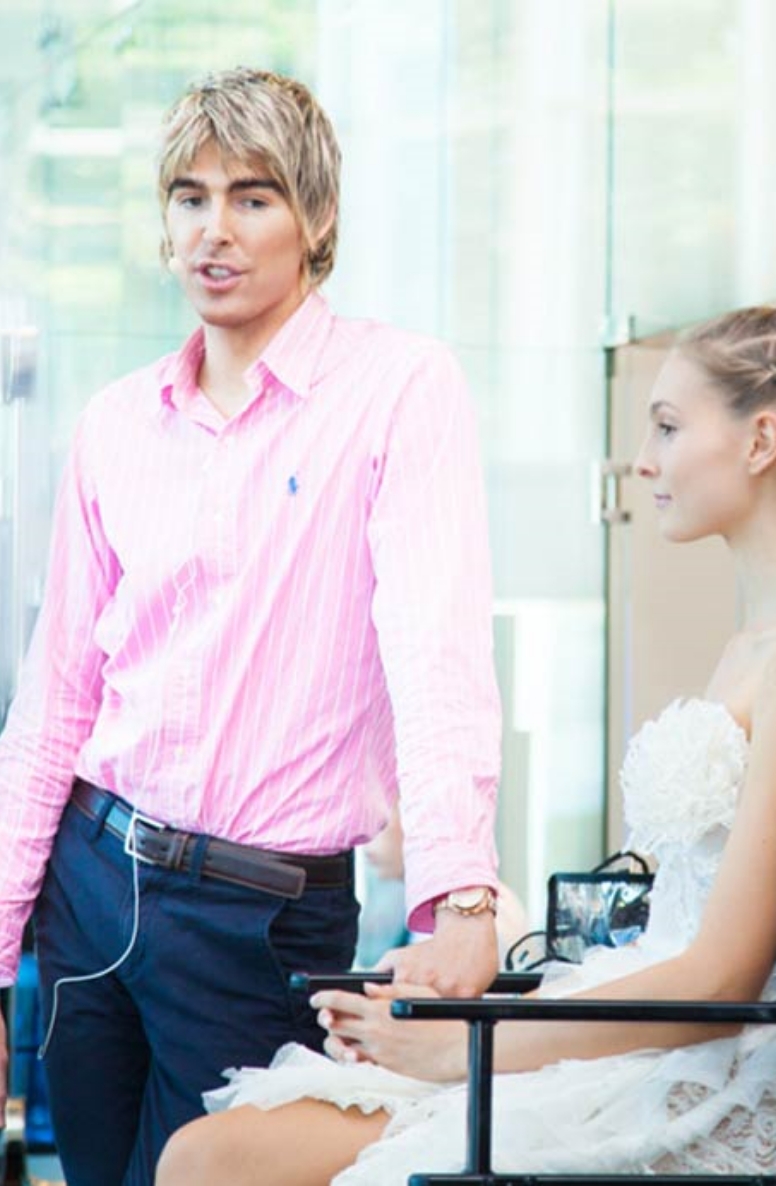 "Nowhere in the world are there courses or a makeup school like HUXLEY"
Anita Caffyn, AU Director Kryolan
Amazing Learning Outcomes
The Huxley School of Makeup prides itself on an almost perfect completion rate. HUXLEY students take their training very seriously and thus, put in a remarkable amount of effort throughout their courses. Equipped with industry-standard skills, a massive professional portfolio, and various real-world work experiences, HUXLEY students are highly employable!
It is extremely exciting to see HUXLEY graduates succeeding in their chosen career paths, whether that is;
Working on feature films like Baz Luhrmann's epic bio-pic blockbuster Elvis or on TV Series like X-Factor, Dwayne Johnson's 'Young Rock' or Nichole Kidman's Nine Perfect Strangers. Or excelling in the Bridal industry, commercial productions, fashion industry, and e-commerce. Working for massive Cosmetics Retailers like MAC, MECCA, and SEPHORA. Or succeeding in their own freelance business ventures or building a career on Social Media as Content Creators. Even working on Theatre productions like Mamma Mia, backstage at the Pink Flamingo, or even as professional Drag Performers!
HUXLEY is the BEST place to study makeup in Australia because our students have gone on to have incredible learning outcomes and reach their educational goals. Learning is a personal experience and a career is something you look back on in hindsight. However, HUXLEY provides the best opportunity for individuals to refine their skills, gain real-world experience, and enter the professional makeup artistry industry.
HUXLEY students are known for their diligence, professionalism, and talent. Through an intense application process, HUXLEY students are carefully selected based on their passion and drive. Since all our students have a shared enthusiasm and are focused and dedicated; it creates a positive classroom dynamic. Small classes and a shared interest in makeup, allow the students to connect with each other quickly. These bonds enable the graduate to network better in the future and form long-lasting connections which are beneficial from a career and personal perspective.
The Huxley School of Makeup is an inclusive environment where all individuals are celebrated regardless of their ethnicity, religion, gender, sexual preference, physical or mental abilities, appearance, age, or social status. HUXLEY is here to educate future creative industry leaders, not to tell students how to live their life. With that said, HUXLEY prides itself on helping students to navigate the often challenging experience of formal education and mentors students to encourage them to make positive decisions towards their career aspirations.
HUXLEY is a fun, welcoming environment that encourages confidence and diligence while reflecting the professional standards required by the industry. This ethos is echoed by the school's motto, To BE INSPIRED, BE INFORMED & BE YOURSELF!
HUXLEY is still one of the only makeup schools in Australia to include comprehensive makeup classes for dark complexions. This is one of many unique offerings at HUXLEY.
Personalised & Adaptive Learning
HUXLEY trainers are experienced professional educators who are able to help the learning needs of all students. Every HUXLEY student can gain access to the faculty to have personal support with their tuition, assessments, and career paths. One-on-one appointments with trainers can be scheduled for additional assistance and students with learning difficulties can gain extra support and guidance when requested.
All people learn differently, so HUXLEY has multiple study methods, class deliveries, and learning resources. The teaching philosophy at HUXLEY is practical focused with the onus put on the individual to take control of their learning experience. Opportunities such as in-class collaborations and photoshoots are extremely attractive to students from a networking and portfolio development perspective. One of the unanticipated benefits is how after major shoots, students gain constructive criticism and participate in a class debrief to discuss processes, strengths, weaknesses, and opportunities. Hidden gems like this within HUXLEY courses are extremely beneficial to the student's development and are what makes the HUXLEY experience so unique and incredible.
You're not just a number at HUXLEY!
At the Huxley School of Makeup, students don't need to battle for attention from their trainers. Having smaller classes ensures our students get lots of personal attention, but also gives trainers and student liaison officers the opportunity to get to know them. HUXLEY students have fun while getting the job done. It is a positive class environment where students have the opportunity to make friends with like-minded people.
The Huxley School of Makeup believes that it is essential to have your work critically assessed and constructive feedback applied to assigned tasks. Receiving technical advice from the experienced trainers at HUXLEY enables our students to grow their knowledge and understanding of makeup while quickly improving their tactical dexterity through the art of makeup. HUXLEY students also gain a unique perspective of current trends and throughout their course develop their visual acuity for fashion and film aesthetics, attributed greatly by work experience placements, trainer guidance, and the curation of various class portfolio-building projects.
There is so much more to professional makeup artistry than smokey eyes and painting on some foundation. For this reason, the Huxley School of Makeup has included modules within their courses and specialty workshops that help to develop the students specialised skills, their confidence, customer service abilities, and even business acumen. The delivery and course content from these classes is unique to HUXLEY and specifically developed to meet and exceed industry requirements.
The HUXLEY faculty and staff are made up of industry heavyweights who have worked across all makeup fields and on some of the world's most iconic productions. Imagine learning special effects from the artists who worked on Wolverine or The Matrix… well you can at HUXLEY!
An essential tool for any professional makeup artist is a comprehensive portfolio. It is incredibly important that this portfolio represents your own aesthetic but more importantly, the audience you want to market to. Given the diversity of career paths within the wider makeup industry, professional makeup portfolios can be equally diverse. Throughout the teaching term, students are encouraged to express their creativity and for this reason, every student walks away with a portfolio that is uniquely their own.
PHOTOSHOOTS
HUXLEY is known for producing extraordinary photoshoots featuring students' incredible work. On average the Huxley School of Makeup curates over 70 professional photoshoots every year in a custom-built, state-of-the-art studio. Having their work professionally shot throughout the course is not only about getting beautiful photos but also gaining invaluable studio experience working in a variety of realistic work scenarios.
VIDEO PORTFOLIOS
No other makeup school in Australia has tapped into this student experience. Huxley School of Makeup provides students with the opportunity to work on beautiful video projects to showcase their skills to potential film and TV clients.
Social Media Content Curation
Social media is a powerful tool for modern creatives. Given the scale and frequency of HUXLEY productions, students have plenty of opportunities to create behind-the-scenes content for their social platforms. CUA51020 Diploma of Screen and Media students also gain exposure to content creation training (how to better capture photos and videos of their work), along with ways to increase the effectiveness of their social media platforms. In-class collaborations with real-world brands will become great content for students to publish online.
Work Experience Placements
Each teaching term, Huxley School of Makeup organises incredible work experience opportunities for students. Everything from big Hollywood blockbuster feature films, to independent productions, music videos, fashion shows, theatre productions and so much more! The opportunities change every term and these placements can often lead to future employment opportunities.
Huxley School Of Makeup is a supporter of the makeup industry and the professional artists who make it so special. As an industry leader in the education space, reputable brands, productions and artists often come to us when they require crew. The HUXLEY faculty are actively involved within the makeup industry and often help students gain employment and work experience placements. Students have mountainous opportunities to network with industry pros throughout their courses.
Major Brand Collaborations
No other Makeup School has in-class collaborations with major brands like HUXLEY!
What do we mean by 'Major Brands' …
Recent collaborations include Mercedes-Benz, YSL Beauty, Moana Bikini, Saski, Village Road Show, Palazzo Versace, Frank Body, Eye Of Horus, L'Oreal and many others. Each teaching term we include massive curated productions into the courses. As an example, on a recent bridal shoot, we had over 30 models and $100,000 of bridal gowns!
In-class collaborations with brands and organisations mean that all HUXLEY CUA51020 Diploma of Screen and Media  students have an opportunity to work on real-world projects. One of the benefits of being located in South East Queensland is the volume of incredible productions that our cities attract. Often there are opportunities where our students are requested to assist on set. Students have had the privilege to work on feature films, amazing fashion shows, music videos, for YouTubers and Instagram celebrities, to theatre productions. Our students on the far North Queensland Townsville Campus don't miss out either. The school curates special shoots with amazing brands just for them!
HUXLEY is the benchmark standard for professional makeup artists. Brands and organisations work with HUXLEY because they know the quality of their work will be amazing.
Want to collaborate with HUXLEY?
If you or the company you work for would like to work with HUXLEY and our students, you can apply via the link below. HUXLEY is always on the lookout for genuine work experience opportunities, job placements, and in-class brand collaborations for students.
Personal Industry Mentors
Once a HUXLEY graduate, you become a part of this incredible community who are available for general guidance and advice. The HUXLEY faculty take pride in helping students reach their educational goals and rising above their challenges. Through the CUA51020 Diploma of Screen and Media, students can schedule time with their trainers and the HUXLEY team to discuss assignments and in-class projects. Once graduated, students often reach out to their trainers and the faculty at HUXLEY for assistance and industry support. HUXLEY has many industry affiliations such as agencies, employers, and government administration officers who can assist students.
"Studying at HUXLEY was the best decision I made in my life"
Simmy Carr , Agency Represented Makeup Artist
Proven Teaching Philosophy
Years of makeup training experience have given the Huxley School of Makeup a wealth of resources and understanding when it comes to delivering the best teaching practices for makeup artists. Courses at HUXLEY have a unique structure and delivery method which cultivates exceptional results. We have also adopted aspects of the critically acclaimed Pearson & Gallagher (1983) "Gradual Release of Responsibility" teaching model. This model sees students interact in a four-phase learning environment:
Focused lessons – "I do it"
Guided Instructions – "We do it"
Collaborative tasks – "You do it together" and
Independent activities – "You do it alone"
Huxley School of Makeup includes various project-based classes which inspire creativity, critical thinking, and problem-solving. Taking accountability for their work, HUXLEY students develop an appreciation for diligence and quality. On the surface level, various photoshoots and video shoots are a massive motivating force. Business and personal development classes help the students to become real-world ready. While incredible collaborations with inspiring brands and companies contribute to their credibility as artists long after graduating.
Not all Diplomas are the same. In fact, every education provider chooses the delivery and course content. Therefore, even though a qualification can have the same title, courses are widely different between providers. Huxley School Of Makeup offers courses that are well in front of the national standard. With unique classes, passionate industry experienced trainers, and real-world experiences throughout the courses, HUXLEY students graduate with exceptional skills, knowledge, and actual experience.
At HUXLEY, students aren't treated like another number. HUXLEY provides authentic educational experiences where students are nurtured to reach their educational objectives.
When it comes to trainers, the HUXLEY approach just makes sense: Courses are delivered by experienced educators who have actually worked and excelled within the fields they teach. This way students gain a genuine, deeper appreciation and understanding of the disciplines they're learning. It seems obvious but unfortunately, this isn't the case for most education providers. The Huxley School Of Makeup has a huge network of industry professionals across the entire scope of the makeup industry. Having this industry insight has both educational and inspirational benefits. Learning from artists who lead international campaigns around the world, or have worked on the biggest feature film productions is pretty special.
Personal mentorship from industry leaders is simply a part of everyday life for HUXLEY students. HUXLEY also holds exclusive workshops and online classes with industry icons. Recently students spoke with Oscar-Winning Disney MUA Designer Nadia Stacey, and the viral internet sensation Mimi Choi with over 2.8million social media followers!
Closing the gap between education and industry
Learn everything from fundamental disciplines through to advanced makeup techniques for fashion, beauty, film, and special effects.
WHEN WE SAY YOU LEARN FROM THE BEST, WE MEAN IT.
We are not actually related, but it certainly feels like a big family at HUXLEY! The positive culture at HUXLEY encourages comradery among the students which in many cases turns into long-lasting friendships. After graduating from HUXLEY, it isn't goodbye. HUXLEY alumni are a special family who celebrate in current student achievements and are always welcomed back to the school that started it all!
Front
THE BOMB
Amy – Business Operations Manager Babe
Back
Front
MAKEUP DADDY
Michael – Course Convener
Back
Front
AUNTY PAIGE
Paige – Head Assessor
Back
Front
Big Sis
Hannah – Design & Marketing
Back
Front
MUMMY MAROT
Margot – Accounting & Finance
Back
Front
uncle rick
Rick – Head of Special FX
Back
Front

bigGEST sis
Meg – Social Media & Admin
Back
Front

big brother
Karlis – Photographer
Back
Front

LIL SIS
Oceana – Business Intern
Back
Discover life as a HUXLEY student from our very own at HUXLEY!
Studying at HUXLEY is an incredible experience!
From life while studying on the beautiful Gold Coast to work experience opportunities on major productions. Hear it first hand from HUXLEY students.
Your journey begins here!
Do you have what it takes to become a HUXLEY student? Apply for a position in one of our famous courses for your chance to be amoungst the carefully selected applicants on their way to becoming a Professional MUA!