When bigger is better..
HUXLEY bridal shoots are a favourite amongst students, models and fans of the school. In true HUXLEY style, our recent bridal collaboration was epic in proportion and magically executed.
THEME, DESIGN AND PRE-PRODUCTION
The original inspiration came from the idea of something beautiful emerging from an ancient structure. An appreciation for architectural structures and brutalist textures were important considerations, heavily influencing the set design. To achieve this look, the creative team at HUXLEY constructed two enormous rolling walls and enlisted the help of local rendering experts Render X to transform the surface of these walls.
Render X aren't your typical renderers. In fact, throw out what you think you know about render and check out their incredible work. Founder Matt Jamieson and his team work on the most luxurious residential and commercial projects, including the likes of Dior, The Block, Rick Shores, Homebodii and some of Australia's best architects, builders and interior designers. Recently they broke the internet after a personal renovation project of theirs made a huge profit. Matt and his Partner Emma paid $775,000 for the home at 31 Beaconsfield Drive in December, 2020. They rendered every surface of the home to create a truly unique and sculptural family home. The rendered property was RealEstate.com.au most viewed property in the history of the site. Over 300 people crammed into the property for the auction and it sold under the hammer for an incredible $2,713,888!

So yeah… not your typical render business. It was an absolute pleasure working with Render X to bring our vision to life and as you can see, the results are incredible. For those of you who are interested in the process, rendering these walls took about a week, which included drying time between layers of render and paint. The high grade materials used on the two 3m x 3m high structures, transformed the walls into epic aged concrete plinths with 3 dimensional angulations across the super structure, patina hues and and all the contrasting marbling and porous textures you would expect from real stone structures hundreds of years in age.

To help with manoeuvrability the walls have a hollow core and wheels. The frame was constructed by a professional film set builder so the walls are both functional and look amazing. Now constructed, the walls will continue to be used as backdrops for other projects and no doubt will feature in lots of awesome content that we create in the studio.

For more info about Render X and their incredible projects, go stalk their socials and check out their website. It was an absolute pleasure working with them on this project and we would 100% recommend using them!

MAKEUP AND HAIR DESIGN
For makeup and hair, we didn't want our students to create typical bridal looks. It might seem a bit strange for a bridal shoot, but we felt they had lots of opportunities to create natural smokey eyes and soft glam. Instead, we got our students to think outside the box to create eye makeup looks that would compliment our modern set design. The brief was to create looks that felt like a 'bridal dream' rather than a bridal reality. We gave them this mood board for reference, but left the creative totally up to them.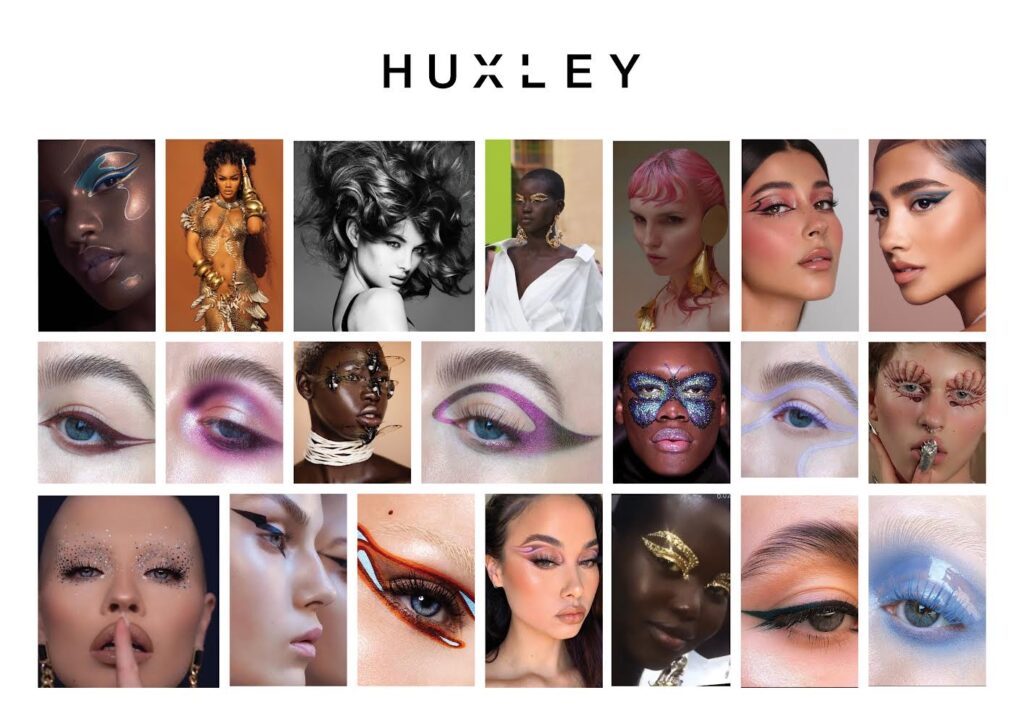 BRIDAL GOWNS
We are blessed to work with some of Australia's best bridal labels. For this shoot our our beautiful models wore gowns from When Freddie Met Lilly, One Honey and Nicolina Bridal.
TEAM HUXLEY
Let's be clear, there isn't a creative arts school quite like HUXLEY! The amount of effort, time and planning that goes into our student collabs and productions is astronomical. Our goal is to simulate real world experiences in a safe and professional environment. This way, when students go out to industry they are prepared.

A big thank you to our trainers, operations manager, office manager, social media and models coordinator, graphic design and marketing coordinator, video team, studio manager, photographer and art director for producing this amazing shoot!
Thank you so much to the agencies and incredible HUXLEY BABES models who participated in this shoot! A special mention to everybody models who inclusively represents a diverse range of models. A full list of credits will appear on this page at a later date.
If you would like to model at HUXLEY – APPLY HERE –
BECOME A PRO MUA WITH HUXLEY!
– APPLY NOW –
Study at Australia's BEST makeup school to have incredible experiences like this.